23 AUG 2023
MCB Rodrigues Scholarship 2023: Hats off to five Scholars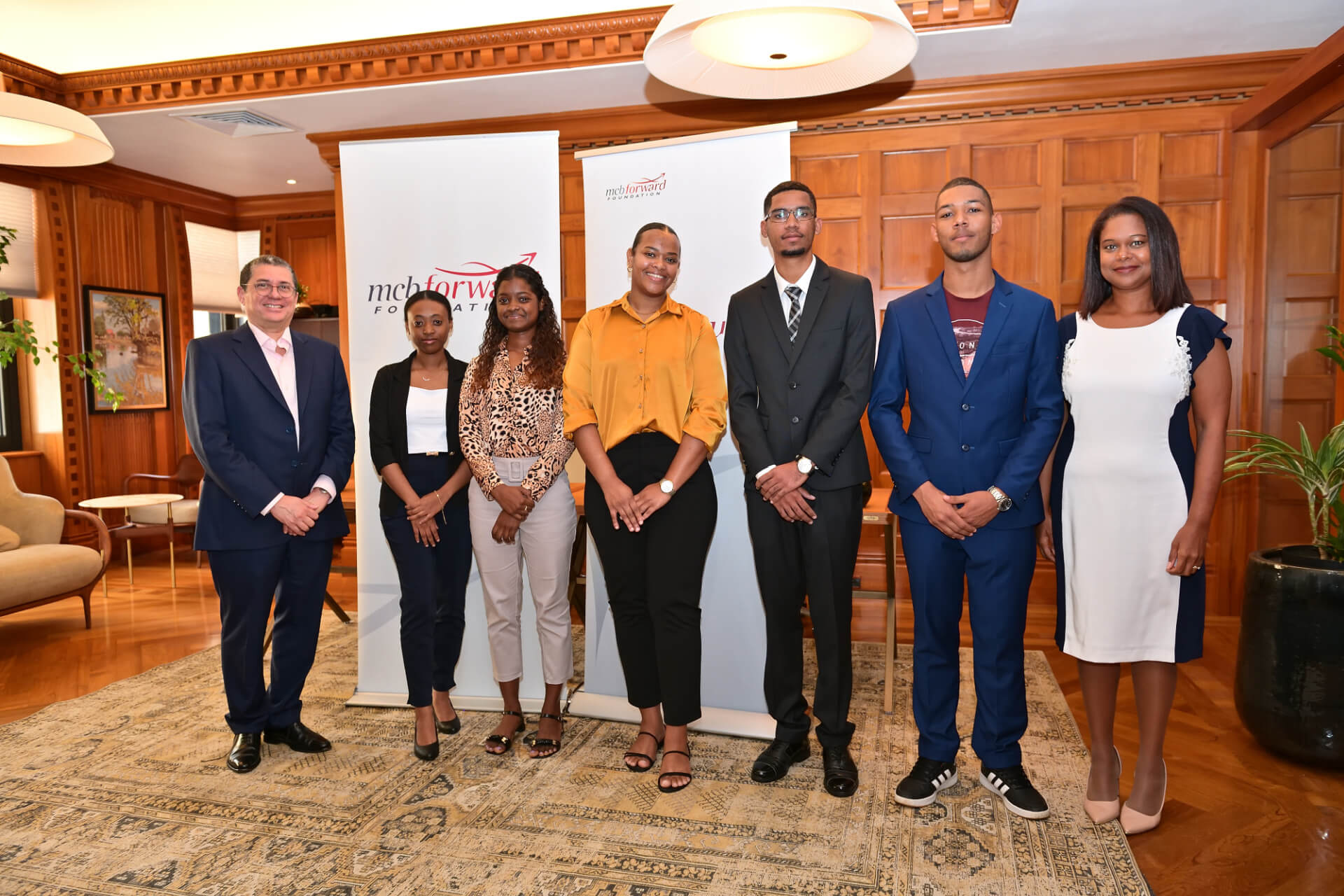 Five scholars have been awarded the MCB Rodrigues Scholarship this year. The official scholarship ceremony occurred on Wednesday, August 23, at the MCB Centre in Port Louis.
Adriane Emilien, Geremi Justin Meunier, James Nickurdean Genave, Bibi Shabnam Jasbeer Casimir, and Marie Anne Sophie Pierre Louis, aged between 19 and 21, are currently starting their tertiary studies at the University of Mauritius.
Eager to make Rodrigues progress
The young students are unanimous; Rodrigues needs their expertise once the tertiary studies are completed. Geremi Justin Meunier and Bibi Shabnam Jasbeer Casimir of Rodrigues College, aged 19 and 20, have chosen to pursue their studies in mechanical engineering. "This sector is booming, and I am delighted to be able to help my country when I return," says Shabnam. Justin says that this scholarship allows him today to realize his dream. "I've been passionate about this topic since I was young, and this financial support couldn't be better," says the young fellow. Adriane Emilien, 20, also from Rodrigues College, will continue her studies in civil engineering. The young woman agrees with the two fellows: «I would like to use my skills to contribute to advancing my country.» Technology is another industry that has attracted the attention of 19-year-old James Nickurdean Genave. The latter studies computer science and wishes to specialize in cybercrime to help Rodrigues in this direction. The young man notes a «sense of belonging among the MCB RS fellows.»
Being involved in citizens' mental health
Studying psychology to support Rodriguans better is the goal set by Marie Anne Sophie Pierre Louis, another scholarship holder from the Collège Le Chou. The 20-year-old scholar is also a former academician of the MCB Football Academy at Patate Theophile. "This scholarship not only provides financial support. It also provides moral support because it allows me to continue my studies without any other concern," the student explains.
Contact
Don't hesitate to contact us for additional info