15 DEC 2014
David Ginola led a technical workshop with 60 children members of the MCBFA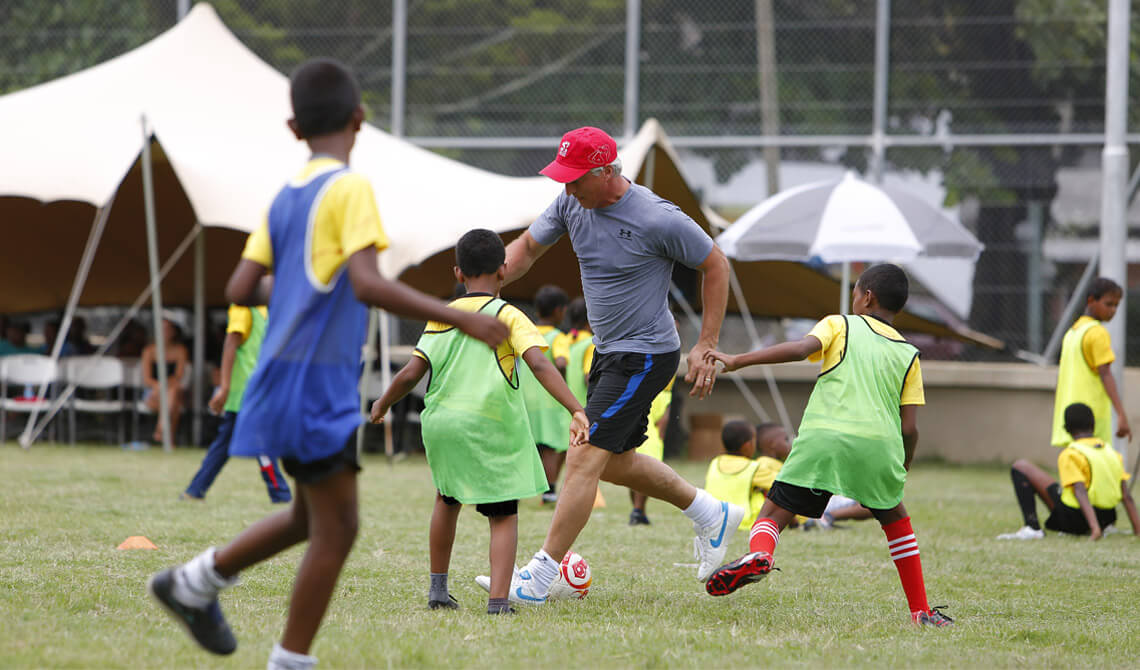 David Ginola, former star of Newcastle United, Tottenham Hotspur, Paris St Germain and the France team, led a technical workshop on Saturday 13th December 2014 with 60 children members of the MCB Football Academy (MCBFA) of Poste-de-Flacq.
The French presenter of the show "Match of Ze Day" on Canal Plus, wants to establish a partnership with the football academies of the MCB Forward Foundation. He stated that he would like to see how we can develop a partnership that would allow children to learn and progress, through regular contact with the highest level as it is practiced in football schools in England and with his former colleagues in the Premier League.
While thanking the MCB for the invitation to meet the boys and girls aged 6 to 11 years, David Ginola much-admired this social initiative, which, he said, should allow the Mauritian football to be exported abroad.
"I fully support this initiative of the MCB that allows children to learn to play football. These children are well supervised by coaches. I wish you and your beautiful island, which is an earthly paradise, happiness, " he told the children, while urging the coaches of the MCBFA to continue in their efforts to teach children the good basis.
MCB Football Academy is a social integrated project that allows boys and girls aged 6 to 11 years and living in disadvantaged areas to learn football under the guidance of qualified coaches. The objective is to ensure that the child develops a "healthy mind in a healthy body", within a supportive environment in preparation for the future.
To be a part of the MCBFA, it is imperative to attend school. A team consisting of coaches, educators and therapists monitor the sports and academic background of each child, and accompanies each family.
After the workshop, David Ginola signed autographs for each of the 60 children present on the Poste-de-Flacq football field. He highly praised each coach for the quality of their work and the good foundations laid by the MCBFA..
Contact
Don't hesitate to contact us for additional info