29 JUN 2015
MCB Rodrigues Scholarship 2015 awarded to Jean Westley Collet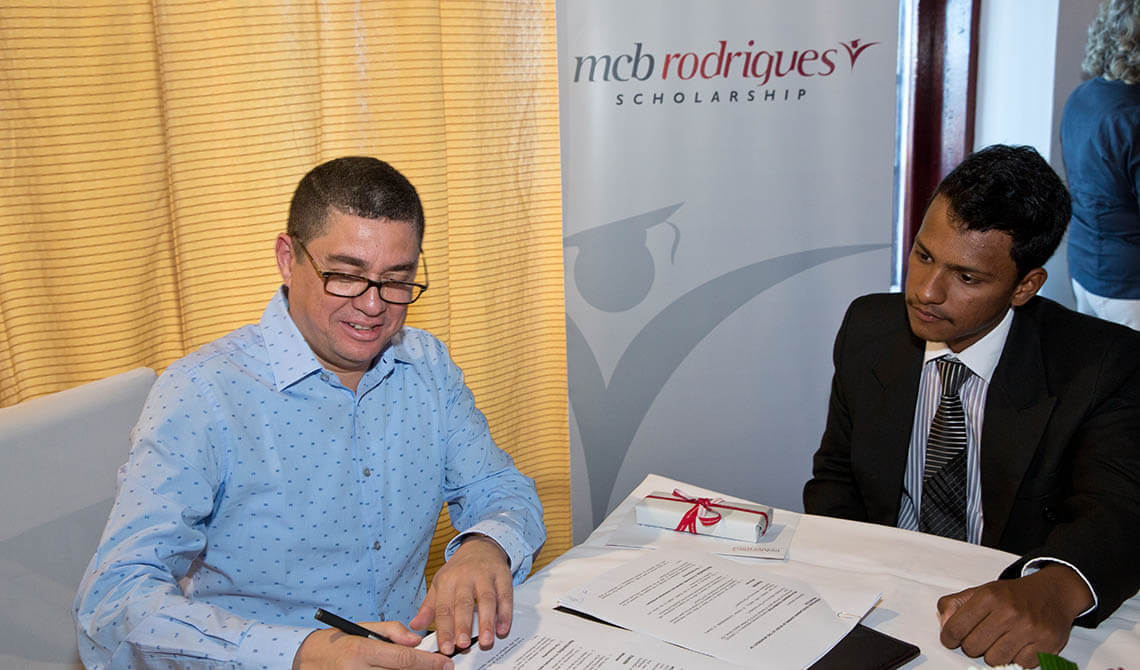 The MCB Group awarded on Friday 26th June the MCB Rodrigues Scholarship 2015 to Jean Westley Collet. The 2015 scholar, residing at Soupir Rodrigues, will undertake studies in Mechanical Engineering as from the month of August at the University of Mauritius. Jean Westley becomes, at the same time the 27th bursary since 2000. The selection was done by the MCB Forward Foundation (MCBFF) and Jean Westley will, therefore, have the opportunity to do his studies in Mauritius. Hoping for a future job as a mechanical engineer, Jean Westley wishes to contribute to the sustainable development of Rodrigues through concrete actions. For example: the construction of a farm of photovoltaic panels on the island.


Ceremony held in Rodrigues.
To celebrate the 15th anniversary of the MCB Rodrigues Scholarship, the MCBFF wanted to give a new dimension to the announcement of the 2015 scholar. This was the first time that the awarding ceremony was held in the island. This presence is a testimony of the importance that MCB Group has for Rodrigues, which forms an important part of MCB's sphere of activity, both social and economic. To note that MCBFF has two full-time representatives in Rodrigues, Jean Patrick Nancy and Freddyca Larose, themselves former scholars.

A secure future.
The MCB Rodrigues Scholarship was created in 2000 to mark ten years of the branch of MCB Port Mathurin. Each year, this scholarship is offered to a Rodriguan student enrolled at the University of Mauritius. The selection is based on certain eligibility criteria: The beneficiary must be Rodriguan who has achieved their school years in Rodrigues. Enrolled at The University of Mauritius, the chosen field of study must be full-time and in line with the economic development of Rodrigues. The beneficiary must not be a recipient of any other scholarship. The financial situation of the family is taken into consideration when allocating the scholarship and finally be voluntary to start work on his island after graduating. The scholarship is awarded in the form of a monthly allowance to cover the expenses of school supplies, housing, transportation and airfare.
"This scholarship is a relief for my family because without it, the tuition fees would have been too expensive. I encourage Rodrigues students to apply for this award as it represents a great opportunity to continue their studies and get a good job to better contribute to the development of Rodrigues thereafter", emphasized Jean Collet Westley with enthusiasm.
Contact
Don't hesitate to contact us for additional info