08 MAY 2015
The MCB Forward Foundation (MCBFF) has become the first ever CSR foundation to receive ISO 9001 certification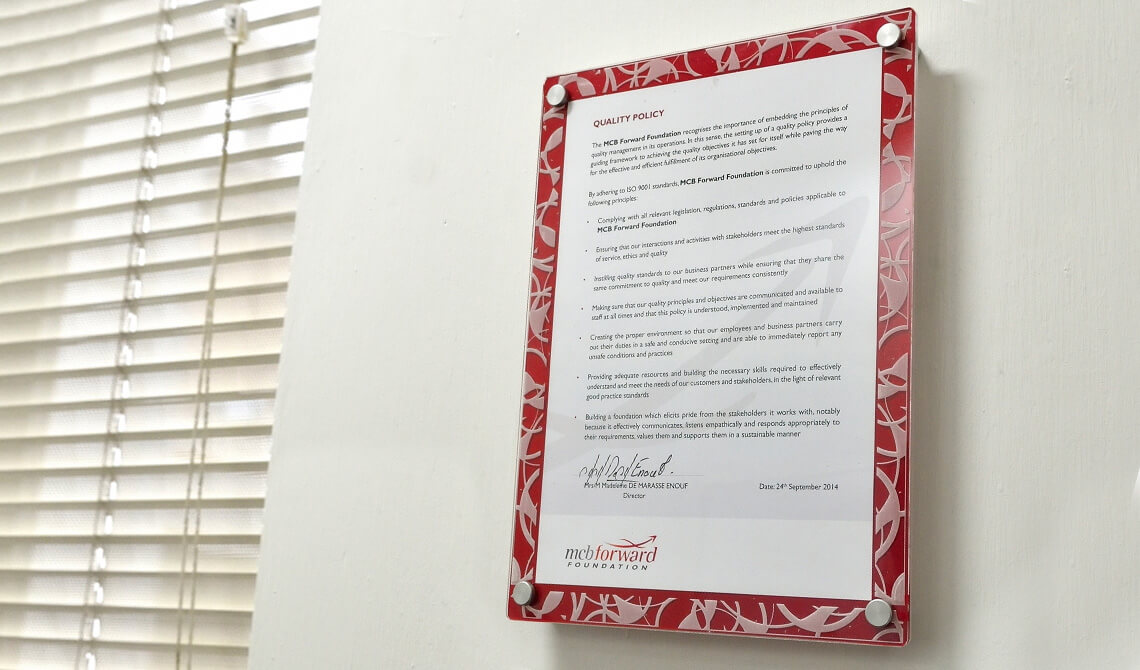 The MCB Forward Foundation (MCBFF), which manages the engagement of the MCB Group on corporate social responsibility activities (CSR) has become the first ever CSR foundation to receive ISO 9001 certification, showcasing its commitment to the principles of quality management in its operations.
Meets practices and standards
MCB Forward Foundation was officially launched in September 2010 to manage the Corporate Social Responsibility (CSR) activities of the MCB Group Ltd more effectively and efficiently. It has continuously geared up its capabilities in order to act as an adequate point of convergence for the design and implementation of specific initiatives intended to further our engagement with the society and its people.
Best service
With the new certification, the MCB Forward Foundation has set up rigorous procedures to make sure that the highest quality of service is offered to NGOs (Non-Governmental Organizations) and all individuals receiving benefits from the Foundation. It is now for organizations willing to work with the MCB Forward Foundation to be able to justify how they use funds received from the Foundation.


AFNOR
The ISO 9001 certification has been approved by the AFNOR Group, French national organization for standardization present in over 100 countries. AFNOR indicates an audit-centric approach focused on improving the efficiency of the organization and also favours active listening to and complete understanding of the culture and the practices of the organisation to highlight its strength, and detect any weaknesses.
Juliette François-Assonne , who is in charge of the MCB Forward Foundation, stated, "This certification serves to highlight the diligent work of the MCBFF towards providing the highest quality of service for the well-being of the community in which we live and work."
Finally, Gilbert Gnany, Chief Strategy Officer of the Group MCB, highlighted, "The ISO 9001 certification comes at the right time, as Budget 2015 has placed lot of emphasis on CSR."
"Therefore, with a solid structure and robust processes, the MCB Forward Foundation will work in line with international best practices, allowing the MCB Group to strengthen its position as a social partner for the community."
Contact
Don't hesitate to contact us for additional info